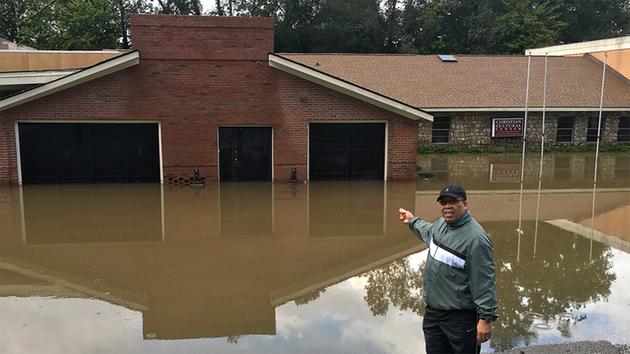 Bishop J.V. Porter of Christ Cathedral in Fayetteville, spent the day at his church on Murchison Road.
"Water covered the entire floor," said Bishop Porter as he surveyed the damage inside.
Walking through the carpeted areas, you could hear the water squishing through the fibers with each step. Church members could be seen throughout, already starting to clean up.
At the height of the flooding, Porter describes the building as sitting in a lake.
"The water was three to five feet high," Porter said.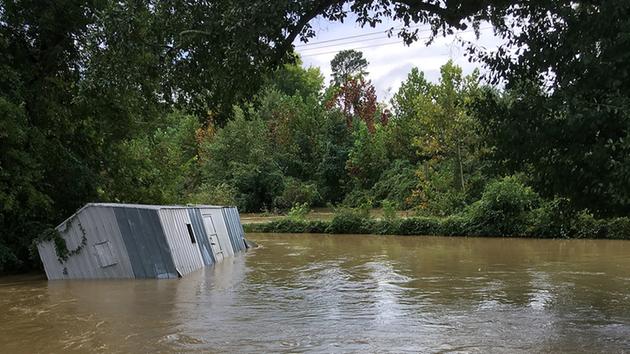 The church is located next to a creek that overflowed from the overnight rain. The rushing water was so powerful, it even sent two of the church's portable storage units right through a chain-link fence in the back, floating them right onto the next property.
Porter said they have some drainage issues, but that they haven't had this bad of flooding at this location in about three to five years.
Click here for First Alert Doppler XP
Click here to download the ABC11 First Alert Weather app.
The aftermath of the heavy rain was felt through the entire county. Throughout the early morning and day, the rising waters closed dozens of roadways. The water even washed part of Sykes Pond Road away.
Cars could be seen half under water, stranded in parking lots. The danger even closed schools and sparked states of emergency.
"We're trying to ask folks if you don't have to come out in these areas that are flooded, please don't put first responders' lives and your own lives at risk," said Fayetteville Interim Police Chief Anthony Kelly.
At the height of the flood, there were more than 20 water rescues in the county.
Residents watched as the water started to recede throughout the day and reveal the damage left behind.
"We already contacted the insurance company they're getting back with us to see where we are with this process," Porter said.
WATCH: Meteorologist Steve Stewart reports from flooded areas of Cumberland County
ABC11 Meteorologist Steve Stewart reports from flood-plagued Cumberland County.
On Thursday afternoon, Cumberland County Schools announced schools would be closed Friday for students. All athletic activities and other after-school activities for Friday have been canceled, including high school football games.
It will be an optional teacher workday.
Fayetteville Mayor Nat Robertson has declared a state of emergency. At a news conference Thursday afternoon, he urged residents to be careful if they have to travel.
"Know before you go," he said "Don't drive into standing water."
Authorities released a 911 call from a man who said he didn't see water and drove into it at Ames St. and Bragg Blvd. He said he couldn't swim and was trying not to panic as the water reached the top of his doors.