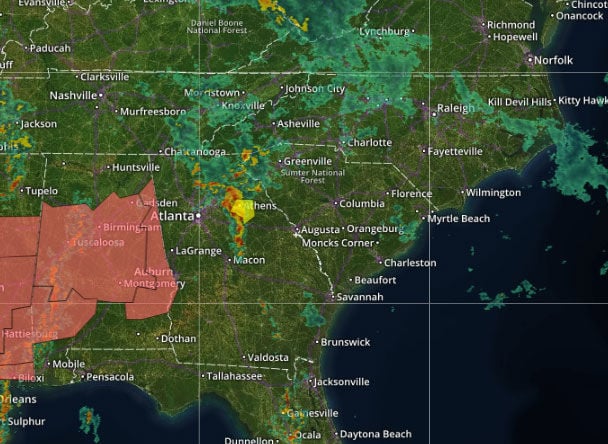 The storm will combine with a cold front moving toward the Carolinas from the Upper Midwest, producing clouds with the rain amid tropical conditions, said Dave Samuhel, a meteorologist with Accuweather in State College, Pa.
"We have to watch out," Samuhel said. "Any downpours could bring localized flooding and ponding on the roads. It will be wetter in Boone than in Winston-Salem."
The weather could bring isolated showers and thunderstorms today to the Triad and areas in the state's western counties, said Kathleen Carroll, a meteorologist with the National Weather Service in Raleigh.
Today's forecast calls for a 50 percent chance of showers in Winston-Salem with a high temperature near 88 degrees amid wind gusts as high as 28 mph. The forecast calls for a 40 percent chance of rain in Mount Airy and Boone with a high temperature of 84 degrees in Surry County, and a high temperature near 78 degrees in Watauga County.
Tonight's low temperature will be around 73 degrees in Forsyth County with a 30 percent of rain. The forecast calls for a low temperature tonight around 71 degrees in Surry County with a 70 percent chance of rain and around 67 degrees in Boone with a 90 percent chance of rain.
The arrival of the remnant of Cindy in the Southeast will coincide with the typical early summer weather pattern in Forsyth and Guilford counties in which moisture from the Gulf of Mexico mixes with the daytime heat to produce afternoon thunderstorms, Carroll said.
The Triad might receive ½ to ¾ inches of rain while the foothills and mountains could get up to 1½ inches of rain, said Andrew Loconto, a weather service meteorologist in Blacksburg, Va. Wind gusts could reach 50 mph in Northwestern North Carolina, he said. Steady rain could result in flooding in some areas, Loconto said.
The recent rain has benefitted North Carolina.
For the second consecutive week, the state's 100 counties aren't in any drought, according the U.S. Drought Monitor Map. The state has experienced surplus rainfall for the past month, said David Miskus, a meteorologist with the Climate Prediction Center in College Park, Md.
The Triad and some areas of Northwest North Carolina have received heavy rain since May 1, the weather service said. Piedmont Triad International Airport recorded 9.12 inches of rain so far this month, and 7.12 inches in May.
During May, Boone got 14.89 inches of rain, and Mount Airy received 9.35 inches of rain, the weather service said. Since June 1, Boone received 2.23 inches of rain, and Mount Airy picked up 3.3 inches of rain.
"From the foothills to the Piedmont, we have been totally soaked in the last couple of weeks," Loconto said.
via http://www.journalnow.com/news/local/remnant-of-tropical-depression-likely-to-bring-rain-wind-gusts/article_3e9eaa27-cf45-5809-bbed-bb4367c126c8.html By John Hinton Winston-Salem Journal